| | |
| --- | --- |
| | |
no upcoming shows listed (solo, or for current projects)
Alex Maher
Multi-instrumentalist blending genres: soul, pop from Vancouver BC
Instruments: Guitar, Vocals, Saxophone, Hand Percussion, keyboard, drums, beatbox
details
Alex Maher has developed a reputation as Vancouver's most soulful one-man band.

Using a loop pedal, guitar, saxophone, a few percussion instruments and his voice, Alex Maher creates lush layers and complex harmonies all with a driving rhythm that makes you want to move. With a foundation in jazz, Alex's music fuses hip hop, soul, pop and funk influences.

The Toronto born multi-instrumentalist spent his early years in North York, moving to Vancouver Island with his family for high school. After moving to Vancouver to accept a university scholarship for an education in science, Alex only lasted three years before being offered a contract with Nettwerk Records and trading his textbooks and lab coat for life on the road. Since then, Alex has been a mainstay in the Vancouver music scene. Alex has had a storied career as a solo performer and as a band member – opening for the likes of Weezer, Wide Mouth Mason, Bachman Cummings, Mother Mother, Sam Roberts, Robert Randolph, and The Proclaimers, and playing alongside B.C. favourites Kyprios, Daniel Wesley and Vince Vaccaro. From 2004-2010, Alex toured western Canada with band DNA6, producing two albums. His musical performances have been included on albums for Bobs and LoLo, as well as in the feature film That One Night and in Hallmark's Cedar Cove.

Alex released his second solo album, Aether EP, to a sold out crowd at Vancouver's Fox Cabaret on February 27, 2017. Covering themes of urban alienation, depression and overcoming the aforementioned, Aether is relatable, polished, and laidback. "I wrote Aether while going through and coming out of a dark period in my life," Maher says, "it was really the support of my family--my friends in the community--that played a pivotal
role in my healing process. That's what this album's all about--finding the strength to give voice to our pain and begin healing ourselves through music."
No audio samples have been linked to this profile.
Available for paid gigs

Videos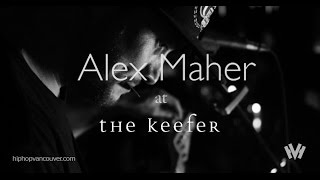 In this Video
Artist(s)
Alex Maher
Resource(s):

The Keefer Bar
Posted: Sep. 8, 2016
Listing last updated/confirmed Aug. 10, 2017