| | |
| --- | --- |
| | |
Sat. January 2nd 2016
Rampage
,
Brimstone
,
Craters
,
FINITE
Wed. December 31st 2014
NOT YER YEAR *NYE* EXTRAVAFUCKINGANZA
Rampage
,
Brass
,
Punkerslut
,
Kill Matilda
,
Craters
,
Thanks For Nothing
,
Gorgeous Geordie
,
Tickling Grandma
View All Past (9)
Rampage
Hard Rock from Vancouver BC
[
Contact Info
]
Upcoming Shows (1)
Past Shows (9)
Rampage is fronted by legend Randy Rampage, former Annihilator frontman and DOA co-founder. Rampage is composed of Duane Chaos (22nd Century, I Braineater) on guitar, Danny Nargang (Kickaxe) on second guitar, Brent Johnson (Real MacKenzies) on bas and the Great Baldini (DOA) on Drums. The hard hitting, fist pumping sound is a combination of vintage hard rock with neo-punk spices and blues-metal roots. Rampage follows a melodic template with grinding rhythms and double-kick drum back beats interlaced with melodies and lyrics with a Rainbow-ish twist. The bands live performances from San Francisco to Vancouver always leave the audience wanting more.
No audio samples have been linked to this profile.
Videos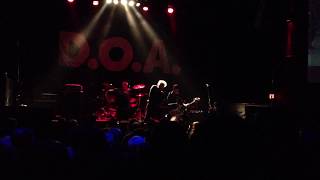 Status:
Available for Shows/Gigs
Tour ready, fully equipped to leave in 24 hours. - Last confirmed Nov. 8, 2015
Submit info on this band to our admins