| | |
| --- | --- |
| | |
Ten Souljers
Top 40 60's, 70's, 80's, 90's, 2000's from Vancouver BC
Hailing from beautiful Vancouver, Ten Souljers, Canada's #1 Event Band, are without exception the best, most versatile, most entertaining dance band in Canada today.

The band set themselves apart when it comes to developing a rapport with their audience. Experts at reading the crowd, champions of interaction, they light up the event with their glorious energy and their infectious persona, every single time! Each and every member loves being part of the band and performing with them, and it shows! Their on-stage chemistry is abundantly obvious and their unmistakable enthusiasm readily transmits to their audience. The band creates a unique, united, choreographed visual spectacle from stage left to stage right, making it impossible to resist the temptation to boogie on down!

A soul-stirring blend of powerhouse vocals, spine tingling harmonies, a sensational horn section, and an incomparably tight rhythm section, their all-out "100% live" show makes for an unforgettable experience. Every song is performed with unparalleled energy, and with the deliberate intention of sounding better than the original!

The band have accumulated a huge repertoire of songs, carefully selected to suit their immensely energetic style, to cater to all tastes, and to keep the dance floor rocking!
No audio samples have been linked to this profile.
Videos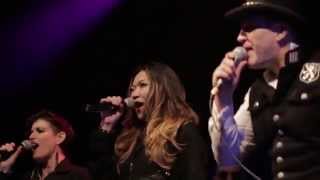 Status:
Available for Shows/Gigs
- Last confirmed Jul. 6, 2017