| | |
| --- | --- |
| | |
Fri. October 17th 2014
@ Lougheed Village Bar & Grill
Burnaby BC
(No Minors)
the EVK sweetness showcase
EVK (Evee Kay)
,
Ajaye Jardine
EVK
POP from Maple Ridge BC
EVK is a performer from Maple Ridge, British Columbia. She is a trained piano and guitar player, but her main focus is on vocals. She is sweet and bubbly with drive, determination and desire to elevate her musical dreams.
EVK composes her own music and writes her own lyrics. EVK's musical styles range from fun, danceable pop to complex disney like fantasies. She is labelled as Candy Pop Princess due to her love of candy, especially Skittles. This blend of child like innocence mixed with her raw hints of sexual innuendo reflects in high energy live performances. EVK possesses great stage presence, she includes her audience to participate in her shows, she incorporates theatrics, costume changes, props and special effects.
EVK is currently finishing her 3rd album, scheduled to be released in August. She performs with a 5 piece band (drums, bass, keyboards and 2 guitars). She incorporates to her live shows 1960's like go-go dancing girls, know as candy girls. EVK's influences range from Blondie, Joan Jett, Biff Naked, to more currently Lady Gaga and Katy Perry.
EVK has completed her first tour last year. Her current tour kicks off with the Hippie Hootenanny.
No audio samples have been linked to this profile.
Current Lineup
| Name | Role | Dates |
| --- | --- | --- |
| Eveline Kay | | 2013-present |
Videos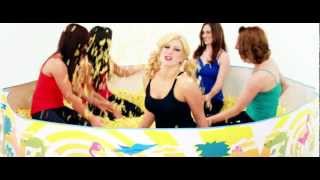 In this Video
Artist(s)
EVK
Posted: Jun. 26, 2015
Status:
Available for Shows/Gigs
British Columbia's sweetest pop sensation EVK is available for booking contact management @ 778-868-0847 - Last confirmed Jun. 27, 2015