| | |
| --- | --- |
| | |
Sat. January 23rd 2016
Vashaan & Davod Azad - Persian Sufi Music
Vashaan Ensemble
,
Davod Azad
,
Fathieh Honari
,
Reza Honari
,
Saina Khaledi
,
Hamin Honari
,
Ali Sajjadi
,
Ali Razmi
Vashaan Ensemble
Persian from Vancouver BC
Gathering together some of the finest classically trained Persian musicians in Canada, the Vashaan Ensemble draws upon Iran's rich musical past to perform joyful and memorable Persian Traditional songs. The Vashaan ensemble was formed in 2011 as a project to explore and present forms of Iranian music that have rarely been heard in North America. Their first collaboration, "Shadmaneh" brought lost melodies and unknown musical styles of Southeastern Iran to a wide range of listeners in an effort to demonstrate how rich and cheerful Iranian traditional music can be.

The ensemble has since formed into a professional yet, close-knit group of musicians that continue to explore the broad range of Traditional Persian Music styles and perform for a wide range of North American audiences.
No audio samples have been linked to this profile.
Current Lineup
| Name | Role | Dates |
| --- | --- | --- |
| Ali Razmi | Tar | 2011-present |
| Saina Khaledi | Santour | 2011-present |
| Hamin Honari | Percussion | 2011-present |
| Reza Honari | Kamanche | 2011-present |
| Ali Sajjadi | Oud | 2011-present |
Videos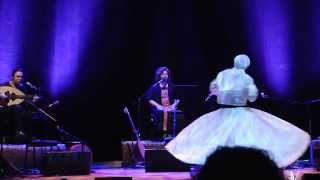 Posted: Jan. 22, 2016
Filmed: Feb. 15, 2014
Status:
Available for Shows/Gigs
- Last confirmed Dec. 10, 2015