Event Archive - Bonus Stage 2: Runaway Four ,
missingNo

,

Geeks vs. Nerds Vancouver

,

The Fictionals

,

DEZI DESIRE

,

Roe Butts

Thu. August 11th 2016

@ Fox Cabaret

(No Minors)

$15

Tickets at:

bonusstage2.bpt.me

Vancouver's celebration of video game culture and community is back with another round of comedy, burlesque, and live music topped off with contests and raffles full of glittering prizes from our generous sponsors. This year, Bonus Stage comes to the historical Fox Cabaret to show Vancouver what its nerds are made of!

Comedy by:

Geeks versus Nerds Vancouver

The Fictionals Comedy Co.

Burlesque with:

Dezi: Performer/Artist

Roe Butts

Music by:

missingNo

The Runaway Four

Early Bird draw for online ticket purchasers, cosplay contest judged by the audience, raffle draw for the big prize package!

Hosted by Joshua "Jiraffe" Pendlebury

Doors at 6:30

Show at 7:00

$15 admission, 19+

Buy advance tickets to be entered to win our Early Bird Prize Package

Sponsors and Prize Packages TBA

Geeks vs. Nerds Vancouver returns with more hilarious debate, this time a battle between Yoshi and Chocobo for best mounted companion. Each month, the Geeks vs. Nerds pit two teams of three pop culture aficionados against each other to answer those questions that no one else has the guts, tenacity, or interest to investigate. The object of the show is simple: secure the title for your team's candidate using facts, obscure knowledge, and trash-talk. They also release a monthly podcast of the show in tandem with their East Coast counterparts, which you can find through their website and iTunes. Learn more at

http://www.WCGeeksversusNerds.com

The Fictionals are bringing Minus World Improv, the Video Game Comedy Adventure, to Bonus Stage! Whether you got your gaming start with the Master Sword or with Master Chief, you'll enjoy the interactive show featuring some of Vancouver's hottest comedians. The award-winning Fictionals Comedy Co. have been entertaining sold-out audiences throughout Vancouver and beyond since 2010. The Fictionals' trademark brand of improv pushes the boundaries of comedy, including successful collaborations with burlesque dancers, comic book artists, slam poets, a Chinese String Orchestra, and even professional wrestlers. The Fictionals perform weekly at Cafe Deux Soleils (Hot Improv Tuesdays) and monthly at The Rio Theatre (Improv Against Humanity). The company can also be seen entertaining at conventions such as the Vancouver Comic Arts Festival, Northwest Fan Fest, and Fan Expo Vancouver, and other live events.

Dezi Desire

Nerdlesque extraordinaire Dezi Desire is a full on geek as well as a take-it-all-off geek. Producing and performing in Vancouver's burlesque scene since 2012, she has been a regular feature at Kitty Nights and Taboo Revue, as well as performing and cosplaying at various conventions both local and abroad. She is co-producer of Moonage Kingdom and Vice President of Screaming Chicken Theatrical Society.

Roe Butts' burlesque debut was in Geekender's hugely successful 'Star Wars: A Nude Hope' as the cheeky and heroic roller-skating R2D2. Since then, this sexy, saucy, and silly vixen has performed in many of their burlesque spectaculars, tributes, and variety shows. Miss Butts' talented singing and dancing has led her to create many hilariously entertaining nerdlesque numbers, from Cruella de Vil to the 5th Doctor. She enjoys also being part of the Bonerattle Talent crew and has featured in Bloody Betty's Gorelesque Show.

Founded in 2011, missingNo has quickly gone from playing local venues to securing performances at many high-profile nerd-themed conventions and festivals at an international level. Atypical for the genre, missingNo. boasts a full, brassy horn section that injects a heavy soul-fusion influence into their arrangements of classic and modern tunes. missingNo. released a demo album in early 2013 and recorded/released a fan-funded full studio album, Warp Zone, later that year. The band's second studio recording, EPOCH, was released digitally in Fall 2015. Their music is available for sale on Loudr, Bandcamp, iTunes, and other platforms and is available for streaming on all major internet radio sites.

Dubbed "the Super Smash Bros. of video game music", The Runaway Four mix, match and mash the best of video game music with a focus on presenting an energetic and engaging live show. Along with cosplaying and pairing each song with timed visuals, they play tunes across all platforms, generations and genres to give everyone in the audience something to get excited about. Since September 2013, the four-piece has entertained nerds at various cons and fests in Vancouver, including the Vancouver Retro Gaming Expo, Nerd Fest, MAGFest presents: Game Over Vancouver, and their self-produced Bonus Stage, now in its second year.
Reviews
No articles have been linked to this profile
Runaway Four
(Video Game Music medleys/arrangements)
The Runaway Four mix, match and mash the best of video game music from classic tunes to hidden gems. With over 300 songs in their repertoire they span all genres and generations, giving all gamers something to enjoy from their themed medleys, timed visuals, cosplay and energetic performance.
more info
Videos of this Event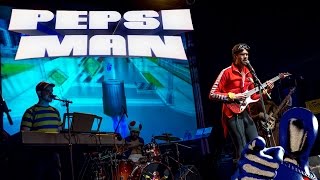 Posted: Nov. 4, 2016
Filmed: Aug. 11, 2016