| | |
| --- | --- |
| | |
no upcoming shows listed (solo, or for current projects)
Randy Archibald
"Randy Rampage"
Legend (we think so) from Vancouver BC
Instruments: Bass, Vocals
details
Randy is a legend on not one, but two genres of music - punk and metal. Randy Rampage, a co-founding member of DOA, fronted Canada's most successful heavy metal act of all time (Annihilator). Randy has assembled a band including ex-I, Braineater lead guitarist Duane Chaos (Nickull), former Real MacKenzies bass player Brent Johnson, current KickaXe lead singer Danny Nargang on second guitar and the Great Baldini (DOA) on drums. While in the studio, Rampage has been playing at a few select concerts including the Punk Rock HomeComing in San Francisco and larger venue shows.
No audio samples have been linked to this profile.
Videos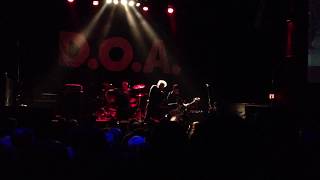 Listing last updated/confirmed Nov. 8, 2015