| | |
| --- | --- |
| | |
Osvaldo Del Mar
Smooth jazz and Latin from Langley BC
Osvaldo Del Mar is a vocalist who sings in Spanish while playing electric guitar. He also arranges his own fully sequenced backtracks to his taste to give his audiences a delightful, varied evening of music and song.

Osvaldo was born in Chile. In his late teens and early twenties he was very active in touring throughout the country, recording two songs with the Odeon label.

He spent most of his adult life in San Juan, Puerto Rico, where music became a hobby. He's been residing in beautiful British Columbia for twenty-two years, dedicating his life full time to music, performing mostly for restaurants, hotels, corporate events, and private parties around the Lower Mainland.

His audiences greatly appreciate his warm, baritone voice as well as his musical versatility. He can interpret Blues, Jazz, a Salsa, Tango, Bolero, Merengue, Cumbia and Flamenco, amongst others. Some of his listeners have called him the "Julio Iglesias of Vancouver". He sings many of the old classics that Michel Buble performs.

His show is perfect for fine dining establishments where the music is appreciated in the background.

Please check out the web site to hear Osvaldo performing a few different styles.
No audio samples have been linked to this profile.
No member roster has been entered (to link to musician profiles.)
Videos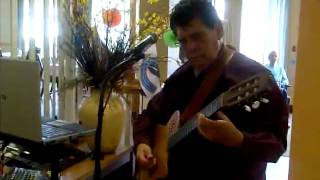 Status:
Available for Shows/Gigs
Looking to perform in Langley or Surrey restaurants - Last confirmed Jul. 11, 2017