| | |
| --- | --- |
| | |
Los Furios
Label:
Megalith/bacteria buffet
Ska from Vancouver BC
LOS FURIOS - Los Furios is a high-energy Ska/Reggae/Indie band that is quickly rising to international notoriety. Since 2002 they have been committed to entertaining their live audiences with a mash up of music. Los Furios performs an intense mix of reggae and punk infused ska originals (complete with a horn section) sure to get you out on the dance floor! Touring Canada, USA and Mexico, the band has won over a new fan base every show. They play in festivals and major venues all over North America. Los Furios have shared the stage with bands like Bad Manners, Aggrolites, Fishbone, Toasters, English Beat, Mad Caddies, Slackers, Mighty Mighty Bosstones, Planet Smashers, Creepshow, Katchafire, Slackers, Chris Murray, Pietasters, Inspector, Maskatesta, Mama Pulpa, Rastrillos, Los Benders, Adhesivo, Tokyo Ska Paradise Orchestra, Westbound Train, Pepper, DOA, Bedouin Soundclash, Vans Warp Tour etc etc etc. Los Furios have been around the block a few times all over the place. Don't miss out on the live show. You won't regret it. Vamanos! http://losfurios.bandcamp.com



Album "Warning Shot" Available
here
No audio samples have been linked to this profile.
Videos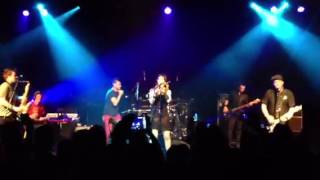 Current Lineup
| Name | Role | Dates |
| --- | --- | --- |
| kyle fury | lead vocal / guitar | 2001-present |
| sean fury | drums / vocals | 2001-present |
| jethro | bass | 2001-present |
| ck | trombone | 2003-present |
Status:
Available for Shows/Gigs
- Last confirmed May. 8, 2015