| | |
| --- | --- |
| | |
Fri. July 14th 2017
@ Fox Cabaret
(No Minors)
Music at the FOX Cabaret
KAIS
,
Mike Machado Trio
,
Elliott Slinn
KAIS
Art Rock from Vancouver BC
KAIS is a Canadian, Indie-Alternative, Art Rock Singer and Songwriter, with natural flair at awakening the goodness of Rhythm and Blues and Soul in his writing. He demonstrates heavy influence by hallmark acts, the likes of Jeff Buckley, Radiohead and Gary Clark Jr.

Born in the heart of the Middle East, yet insatiably drawn to Western pop culture, he believed that he was "called" to change the world through music. Writing songs from the age of 15, and keen on making a splash in the world with the fervor of a young adolescent's heart, his songs initially touched on issues that weren't too far from his doorstep. Not so long after, he aired on the number one Jordanian Hit Music Station 'Play 99.6' with a rendition of one of his first originals, War Be Gone.

In spite of obstacles that came and went, from parental disapproval to unexpected stages of weakening health, what typically identified his obsession didn't stop at radio airplay, and his life experience channeled through his songwriting and ongoing pursuit of music. His first recorded and distributed album, Star In a Jar, was released in 2013. It marked his third batch of original material and broke more ice for what followed in this artist's career. This led to a London produced electronic EP out of Point Blank Music College, and a second guitar-based album, Seven Shades of She. A quick eavesdrop reveals hooks that both captivate and invigorate.

KAIS is certainly no stranger to wanderlust, an element he considers essential to his spiritual development and songwriting. Musically active around Vancouver, BC, his current city of residence since moving back in 2015, he's already performed at numerous venues, and was recently nominated as a Finalist in the International Songwriting Competition's Music Video category. At this time, he continues to hone his craft as a four-piece band for the devoted audiences of festivals and signature venues, while recording another 12-song international release due for August 2017.
No audio samples have been linked to this profile.
Videos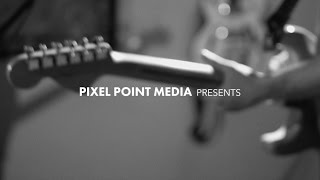 Posted: Apr. 20, 2017
Filmed: Dec. 20, 2016
Status:
Available for Shows/Gigs
- Last confirmed Jun. 25, 2017