| | |
| --- | --- |
| | |
Sat. June 3rd
815PM SHARP doors at 7:00 PM
BRENT 'FUBAR' JOHNSON MEMORIAL SHOW FEATURING~
Dayglo Abortions
,
Power Clown
,
Rampage
,
Strugglers
,
Wasted Strays
,
Scum Element
$10 ADV $15 DOOR
Rampage
Hard Rock from Vancouver BC
Rampage is fronted by legend Randy Rampage, former Annihilator frontman and DOA co-founder. Rampage is composed of Duane Chaos (22nd Century, I Braineater) on guitar, Danny Nargang (Kickaxe) on second guitar, Brent Johnson (Real MacKenzies) on bas and the Great Baldini (DOA) on Drums. The hard hitting, fist pumping sound is a combination of vintage hard rock with neo-punk spices and blues-metal roots. Rampage follows a melodic template with grinding rhythms and double-kick drum back beats interlaced with melodies and lyrics with a Rainbow-ish twist. The bands live performances from San Francisco to Vancouver always leave the audience wanting more.
No audio samples have been linked to this profile.
Videos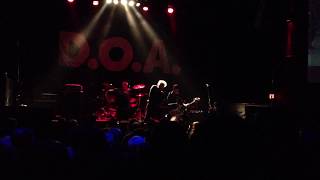 Status:
Available for Shows/Gigs
Tour ready, fully equipped to leave in 24 hours. - Last confirmed Nov. 8, 2015