no upcoming shows listed (solo, or for current projects)
Holly Burke
jazz, world from Vancouver BC
Instruments: Flute, Vocals, Piano/Keyboards, Hand Percussion, harmonica - percussion
details
Seasoned flutist - vocalist - performer...
influenced by the sun, the moon, and the stars...

Holly Burke & The NATURALS ~ award-winning jazz band with a super fun LIVE show. Real, raw music from stellar Vancouver musicians Holly Burke, flute and vocals. Bill Runge, saxophones. Randall Stoll, drums, Kristian Alexandrov, keyboards. Brent Gubbels, bass. Ready to tour. CD "Nature Girl"
No audio samples have been linked to this profile.
Available for paid gigs
Available for casual jamming
Available for serious projects
Available for lessons

Videos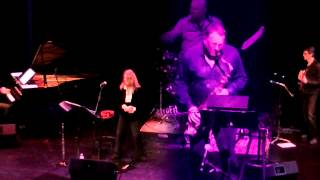 In this Video
Artist(s)
Holly Burke
,

HOLLY BURKE & THE NATURALS
Posted: Jun. 25, 2015
Listing last updated/confirmed Jun. 25, 2015