Alive n' Kissin'
Available for Shows/Gigs
- Confirmed:
Apr. 9, 2018
Classic Rock & Stage from Vancouver BC
ALIVE & KISSIN' are a Vancouver, BC based tribute band bringing the over the top, loud, rock n' roll party energy of classic KISS concerts to the local stage. Full Makeup, Full Costumes, Full Throttle Theatrics & FULL VOLUME!!
No audio samples have been linked to this profile.
Videos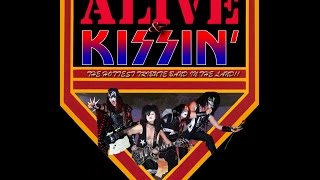 Current Lineup
| Name | Role | Dates |
| --- | --- | --- |
| Peter Criss | Drums & Vocals | 2016-present |
| Paul Stanley | Vocals & Guitar | 2016-present |
| Gene Simmons | Bass & Vocals | 2017-present |
Past Members
| Name | Role | Dates |
| --- | --- | --- |
| SpaceCase | Lead Guitar & Vocals | 2016-2017 |
| Gene | Bass Guitar | 2016-2017 |
Status:
Available for Shows/Gigs
Contact ALIVE N' KISSIN' for your next big party event! - Last confirmed Apr. 9, 2018