| | |
| --- | --- |
| | |
no upcoming shows listed (solo, or for current projects)
Alex Maher
Multi-instrumentalist blending genres: soul, pop from Vancouver BC
Instruments: Guitar, Vocals, Saxophone, Hand Percussion, keyboard, drums, beatbox
details
Alex Maher is a multi-instrumentalist (sax, guitar, vocals, beatbox/loop pedal) artist who has developed a reputation as Vancouver's most soulful one-man band. Born in Toronto, Alex spent the early years of his education in North York, moving to Vancouver Island with his family for high school. Alex plays six nights weekly in Vancouver. Seven years ago he founded the Anza Club's Open Mic Night as an opportunity for some of Vancouver's finest local talent to showcase their abilities. The Open Mic night has flourished over the years with Alex collaborating with artists such as Randy Ponzio, David Morin, Little T, and Jess Vaira. Alex has produced and released two albums with DNA6, and performed with bands Kyprios and the Chaperones, Daniel Wesley, and Vince Vaccarro. His musical performances have been included on albums for Bobs and LoLo, as well as in the feature film That One Night and in Hallmark's Cedar Cove.

Utilizing a sparse set up with just a loop pedal, guitar, saxophone, along with a few percussion instruments and his voice, Alex Maher creates lush layers and complex harmonies all with a driving rhythm that makes you want to move.

Alex is currently working on his second solo album which he plans to release soon.
No audio samples have been linked to this profile.
Available for paid gigs

Videos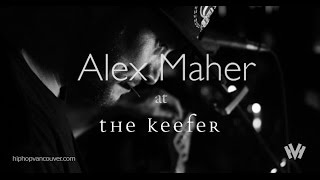 In this Video
Artist(s)
Alex Maher
Resource(s):

The Keefer Bar
Posted: Sep. 8, 2016
Listing last updated/confirmed Sep. 9, 2016