Audio Samples
| Track | Play | Save |
| --- | --- | --- |
| Little Sister | | |
| Just a Little | | |
| Back Door Man | | |
| | | |
| Lonesome Me | | |
View all tracks (10)
The Bangin Lucy Band
Classic Rock - R&B - Blues from Fraser Valley BC
Available for Shows/Gigs
- Confirmed:
Feb. 13, 2020
Rocking Blues you can really groove to. This trio is made up of veteran artists from three corners of Canada. Ryan Tedesco (Bass/Vocals), Russ Steiner (Drums/Vocals) and John Dery (Guitar /Vocals).
The Bangin Lucy Band puts their brand on covers and originals they really get the crowd jumping!!

Lucy offers only the highest quality LIVE renditions of classic rock hits from the 60's, 70's and beyond. Some of our favorite artists include David Wilcox, The Hip, Aerosmith, The Beatles, The Stones, Zeppelin, The Animals, Petty, Cream, Clapton, ZZ Top - and that's just the tip of the iceberg.

Our Classic Rock Catalog - At Lucy, we are proud of our comprehensive catalog of classic rock hits and "B" sides from the 60's 'till today. We Also offer sets for dinner hours that demand a quieter, more laid-back atmosphere before folks hit the dance-floor.

We Rock Harder For You - In live music, there's nothing worse than listening to a singer that can't quite hit that note, or listening to a guitar solo that gets more sour with each note played. At Lucy, work hard each day to fine tune our performance and master our craft. The result is a band with superior synergy, magnificent musicianship and a polished performance. Isn't that the kind of band you want playing your party or event?

We are Professional - We take your time very seriously. Whether you're an entertainment director for a festival, a wedding planner, or you're organizing a birthday party for a friend or loved one, Lucy always treats you with the utmost respect and professionalism. When you book Lucy, you can expect us to be on time, to be organized and professional. We strive to give you the best experience.

Bang the gong baby!!
Audio Samples
| Track | Play | Save |
| --- | --- | --- |
| Little Sister | | |
| Just a Little | | |
| Back Door Man | | |
| | | |
| Lonesome Me | | |
| Uptown Came Downtown.... | | |
| Only Daddy... | | |
| I Know a Little | | |
| Courage | | |
| Badge | | |
View all tracks for this artist (10)
Videos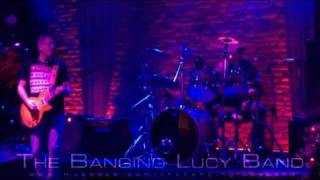 Status:
Available for Shows/Gigs
SET LIST FROM LATEST SHOW SHAMBALA 10AM AUTOMATIC 50 MISSION CAP BACKDOOR MAN BADGE BORN UNDER A BAD SIGN COLD SHOT COURAGE CROSSROADS DOWNTOWN CAME UPTOWN EVERYTHING IS BROKEN GEL HONEY HUSH I KNOW A LITTLE I THANK YOU KRYPTONITE LIL SISTER OH LONESOME ME OH PRETTY WOMAN ONLY DADDY PRIDE & JOY SHAPE I'M IN STUCK IN THE MIDDLE UNDER MY THUMB WALKIN THE DOG WE GOTTA GET OUTTA THIS PLACE WHEN LOVE COMES TO TOWN WHO DO YOU LOVE WILD NIGHT WON'T BACK DOWN HYPNOTIZIN BOOGIE YOU WRECK ME OCEAN PEARL MIDNIGHT HOUR TAKE ME TO THE RIVER NASTY DOGE & FUNKY KINGS HAVE A DRINK ON ME END OF THE LINE JAILBREAK TO LOVE SOMEBODY FRANCINE OLD LOVE I'M 18 BALINESE DRIFT AWAY HOUSES OF THE HOLY MISTY MOUNTAIN HOP - Last confirmed Feb. 13, 2020