| | |
| --- | --- |
| | |
Macka B
from United Kingdom
Recognized as one of Britain's most legendary and influential influential dancehall toasters, Macka B has used his music to push dancehall back towards Rastafarian political consciousness, while bringing elements from other branches of the reggae tree like roots, dub and lovers rock. With a career spanning nearly four decades, Macka B has built a career on his insanely unique delivery and stage presence, and a voice unlike few others on this planet. Macka's voice is rich, emotive and able to downright wondrous things with cadence and timing, gentleness and ferocity.

The music on his massive output of albums displays an uncanny ability to move between serious and more lighthearted subject matter in his music. Earlier albums like the landmark Sign of the Times (1986) and Looks are Deceiving (1988) are marked by dark political undertones with a constant eye on the struggle and strife of everyday life. Though his consciousness and commitment to recognizing and relieving struggle has hardly waned, much of his later work is rooted in less large-scale political matters, focusing instead on the smaller matters of community and self. His on-going "Medical Mondays" web series where he shares his ever-growing knowledge of bodily health and veganism (Of which he is an adherent) spawned a surprise smash hit when his raps on the health benefits of cucumbers (Appropriately titled "Cucumba") went viral, racking up over a million views. His latest album, Health is Wealth, expands on the health through diet ideals and melds them with traditional reggae themes like peace, African heritage, and political resistance. Like all great reggae voices, Macka B makes music of love, music for the people of the streets and of the farms.
No audio samples have been linked to this profile.
No member roster has been entered (to link to musician profiles.)
Videos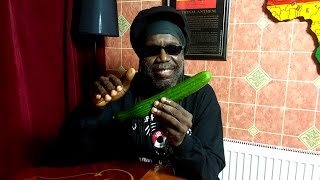 Status:
Available for Shows/Gigs
- Last confirmed Apr. 13, 2019