| | |
| --- | --- |
| | |
Zingo
from Vancouver BC
Broken Up
- Confirmed:
Mar. 29, 2018 (Archived)
Zingo was formed in Vancouver, BC Canada, in the early '70s by three friends; Lead Singer Vince Nardulli, Guitarist Dave Skinner, and Drummer Frank Dato who grew up in together in East Vancouver and played together in a Band all through their high school years. After adding Keith Scott on guitar (who went on to record & tour with Bryan Adams to this day) and Joe Alvaro on bass, the 3rd version of Zingo became the notable line-up which signed a record deal and toured with many Recording Acts.
The group played hundreds of nights per year in Vancouver clubs on the same circuit as Heart, Trooper and Bachman Turner Overdrive. Zingo then started writing, performing and recording original material which led to arena shows with international recording artists such as The Beach Boys, John Lee Hooker, Canned Heat and Brownsville Station, Trooper, and many others.
All this buzz resulted in the band being managed by Bruce Allen and Associates (who later when on to handle the career of (BTO, Prism, Bryan Adams, etc), with Zingo eventually signing a record deal with Harbor Records from (England) and releasing a single in Europe. Produced by John Schroeder (Status Quo) and recorded at the world famous Little Mountain Studios. A full length album was in the making, but as happened with many good bands, troubles between recording companies at both sides of the Atlantic ocean lead to Zingo losing their contract.
Zingo were known to be dynamic performers who loved to rock on stage but also were accomplished players, experimenting in many different styles, always with a strong melodic rock focus in mind. This blend of showmanship and musicianship combined with well-crafted songs made them a very popular band, remembered to this day by Canadian fans and beyond. Bio by Dave Skinner
No audio samples have been linked to this profile.
Videos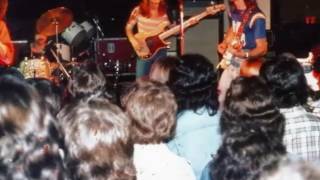 In this Video
Artist(s)
Zingo
Posted: Mar. 28, 2018
Status:
Broken Up
- Last confirmed Mar. 29, 2018