| | |
| --- | --- |
| | |
no upcoming shows listed (solo, or for current projects)
Paul Kype
Unknown
- Confirmed:
Sep. 27, 2019
A masterful guitarist, Paul has been playing guitar since the age of ten. Drawing upon the influences of guitar legends such as Jimi Hendrix, BB King, Eric Clapton, and Stevie Ray Vaughan, Paul has honed his skill to near perfection. He honors the songs of the greats by playing them with amazing precision and at the same time, investing them with his own intense feeling. After his solos, it is not uncommon to see people cheering jubilantly while shaking thier heads in disbelief and awe. Originally from Abbotsford BC, Paul joined his first band " Legal Tender" at the age of sixteen, playing the bass guitar. The band was a popular band at local high school dances and festivals for 3 years when he moved to the far north for a job and a re-dedication to playing guitar rather than bass. For the following 8 years Paul played in various bands working the club circuit of western Canada, honing his guitar and vocal skills and meeting many people who would become instrumental in the formation and success of Texas Flood in the years to come. In 1993 Paul formed Texas Flood with Jerry Adolphe, veteran Vancouver drummer of well known bands "Chilliwack" and " Jim Byrnes", and fellow club musician Simon Hardman. Through the nineties Texas Flood toured relentlessly ,eventually securing the Monday night slot as a house Band at The Yale Hotel in Vancouver in the year 2000, a Monday night party that lasted three year. The year 2000 was a busy one that included a full festival tour as a backing band for Chicago lap steel legend "Freddy Roulette" and a trip late in the year to do some shows in Austin Texas, a lifelong dream .
Through his work at The Yale, Paul struck up a friendship with Canadian rock legend "Jerry Doucette" and began to play second guitar in the "Doucette" band and continues to do so to this day. Try to catch these two , both formidable guitar talents, together onstage. Since relocating to Alberta in 2004, Paul has continued to work steadily with Texas Flood and as of March 2014 has released their latest CD, " Long Time Comin' ". Texas Flood is committed to keeping the rockin' blues alive * Biography from www.paulkype.com
No audio samples have been linked to this profile.
Videos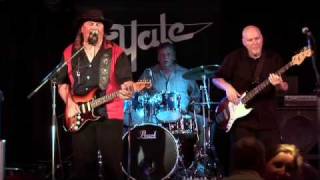 Listing last updated/confirmed Sep. 27, 2019