| | |
| --- | --- |
| | |
Silk Road Music
Label:
Autumn Cloud Recording
Contemporary Chinese from Burnaby BC
This fabulous Vancouver-based husband and wife duo introduces audiences to different cultures through music. Qiu Xia He is a virtuoso on the pipa, a Chinese lute with a wide range of expression. Multi-instrumentalist Andre Thibault plays guitar, oud, and percussion. The duo's innovative approach uses classical Chinese music to promote cultural links with non-Asian traditions, reflecting the true multicultural spirit of immigrants in Canada. Beautiful and evocative music.

丝绸之路音乐团:
成立于1991年,最初以中国专业音乐家为主,随着探索的步伐,乐团以世界音乐角度,将中国音乐和西方音乐紧密结合,引进不同元素,将中国的琵琶,二胡,中阮与西班牙吉他,巴西打击乐,室内交响乐队合作,创作了一系列具有独家风格的表演曲目和演奏形式,在主流社会被公认为中西音乐交融的典范,多次作为国际交流的节目,曾荣获俩个加拿大专业音乐奖,朱诺奖提名,其中的一盘CD是给2010奥林匹克评委会的礼物。丝绸之路音乐团是北美多元文化音乐的代表。
No audio samples have been linked to this profile.
Videos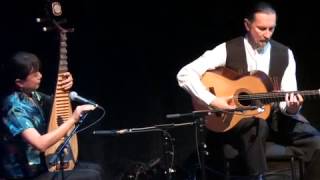 Status:
Available for Shows/Gigs
Advanced booking. - Last confirmed Aug. 20, 2017