| | |
| --- | --- |
| | |
Sonata Arctica
Power Metal from Kemi Finland
SONATA ARCTICA'S HISTORY
The beginning and Ecliptica (1999):

Sonata Arctica began in 1996 under the name Tricky Beans in Kemi, Finland. They would release three demos under that name - Friends Till the End, Agre Pamppers and PeaceMaker. In 1997 they renamed themselves Tricky Means, changing their rock ways into a more Power Metal feel and gaining influences from bands such as Stratovarius.

The first demo recorded by Tricky Means, FullMoon, at Tico Tico Studios in Kemi caught the eye of owner Ahti Kortelainen. The demo codified their trademark sound of fast, melodic metal with heavy keyboards and clean high vocals. Ahti Kortelainen was so impressed that he sent it over to the Finnish record label Spinefarm Records, closing their first album deal in 1999. It was then that they decided to choose a more appropriate name for their music - Sonata Arctica.

Sonata Arctica's first single "UnOpened" was released in the summer of 1999. The single contained the title track and the song 'Mary Lou'. Unfortunately the original pressing of the single had been accidentally slowed down - this mistake was discovered after the single had been shipped to record stores. The record label recalled the single and a new version was released. Their first album Ecliptica was released shortly after the single in Finland, and then with great success internationally. It led the way for the band to participate on cover albums for Metal luminaries such as the Scorpions and Helloween.

Singer Tony Kakko decided to concentrate more on singing live instead of doing keyboards and vocals at the same time. They hired keyboardist Mikko Härkin in 2000 to allow Tony to roam freely on stage. For a while it allowed both Tony and Mikko to play simultaneously on the same keyboard which added an interesting element to their live experience.

In 2000 Sonata Arctica was chosen out of 32 bands, from 15 different record companies, as a support band for Stratovarius' European tour with Rhapsody. This tour would expose the band to new audiences and win over even more fans. After the tour they released a mini CD/EP called "Successor" featuring unreleased tracks, covers, and live tracks to whet the fans' appetite for the new album.

In the summer of 2000 bassist Janne Kivilahti left the band due to personal reasons. Former band member, Marko Paasikoski, then rejoined the band as his replacement playing bass instead of guitar. The lineup at that point was Tony Kakko (vocals), Jani Liimatainen (guitars), Marko Paasikoski (bass), Mikko Härkin (keys) and Tommy Portimo (drums).

Ecliptica Tour

tour started: August 8, 1999
tour ended: June 30, 2000
shows: 60
countries: 14
other: The band played outside of Finland for the first time supporting Stratovarius on their 7 week European tour.

Silence (2001) & Songs of Silence (2002):

Not wasting momentum, the band quickly went back into the studio to record their second album Silence, with Tony composing all of the songs. The first single, "Wolf & Raven", gave them their first music video, filmed in Finland. The album was highly successful, not only in Finland, but also in Japan, selling more than 30,000 copies within the first year. Thanks to those high record sales, they played their first four concerts in Japan to welcoming crowds in September 2001.

The remainder of 2001 was filled with various Finnish/European shows, with their first appearance at the legendary German festival Wacken Open Air. After successful Japan gigs in September, they went on tour with Gamma Ray & Vanishing Point for a five week tour of 12 countries and 28 shows. Amid the rampant touring, they found time to release their second single from Silence called "Last Drop Falls". This received a lot of airplay at home and around Europe. During the tour their first album Ecliptica was nominated for an Emma Award (Finnish Grammy) in the category of "Best hard rock/heavy album".

The beginning of 2002 was greeted with a small South American tour. Four shows in Brazil and two more in Chile were met with wild crowds, some so loud that even the band couldn't hear themselves onstage because the audience was louder than the instruments!

Their first live album Songs of Silence, recorded at their Tokyo show on September 4th, 2001, was released in November 2002. The European and Asian editions have completely different cover art, both made by Janne "ToxicAngel" Pitkänen who became the exclusive artist for all Sonata Arctica releases.

During the summer of 2002 keyboardist Mikko Härkin decided to leave the band due to personal reasons after the last show of the tour. The band announced a search for a new keyboardist and received many applications from all around the world. Two of the candidates were asked to travel to Kemi for an audition. Instead of judging the two by just musical capabilities alone, they decided to take them one by one to a local bar and see how well they got along. Turns out it was the right thing to do as they got along famously with Kokkola native Henrik Klingenberg who would be chosen to replace Mikko on keyboards. Henrik had previously honed his skills for almost a decade with local Progressive Metal bands such as Requiem and Silent Voices.

Silence Tour
tour started: January 26, 2001
tour ended: July 27, 2002
shows: 77
countries: 15
other: The band played Japan for the first time and recorded their first live album there. They also went to South-America for the very first time.

Winterheart's Guild (2003):

While looking for a new keyboardist the band had already started working on their third album, Winterheart's Guild, with the help of Stratovarius keyboardist Jens Johansson. Jens played solos for four songs, while Tony handled the rest of the keyboards himself.

Henrik's first appearance with Sonata Arctica was in Tornio on February 21st, 2003. Unlike Mikko, who preferred to stay in one place, Henrik roamed the stage freely with his keyboard controller and interacted with the other band members. The energy and stage presence of Sonata Arctica began to ramp up around this time.

After a small Finnish tour for Henrik to get his feet wet, the band took off for Japan to show off their new keyboarder. At about this time the first single from Winterheart's Guild called "Victoria's Secret" was released to immediate success. The fast-paced song raced up the Finnish charts to #2 and two weeks later to #1, becoming the highest ranked Sonata Arctica single to date.

The single wasn't the only thing racing up the Finnish charts as Winterheart's Guild peaked at #3 and stayed five weeks in the Top 10. Another Finnish tour was planned, covering all the country, followed by the ever popular festival season. The band opened it with the Sweden Rock Festival and continued on to such festivals as Nummirock, Hungary's Sziget Festival, and ending with their second appearance at Wacken Open Air.

Another single from Winterheart's Guild and an EP were released in late 2003. The first being "Broken", which included two previously unreleased bonus tracks recorded when Mikko was still in the band. Japan got the latter EP, "Takatalvi", which contained songs from the then sold out "Successor" EP and additional material, minus the live tracks.

Winterheart's Guild became their last album with Spinefarm Records. The band shopped around and ended up signing a multi-record deal with German label Nuclear Blast. Thanks to that deal Sonata Arctica were chosen to open Japanese shows for Iron Maiden in 2004. After returning back to Finland, they were notified that their album Winterheart's Guild was nominated for an Emma Award in the "Best Hard Rock/Metal Album" category.

Winterheart's Guild Tour
tour started: February 21, 2003
tour ended: August 31, 2003
shows: 46
countries: 6
other: This was the band's shortest tour so far.

Reckoning Night (2004) & For the Sake of Revenge (2006):

The band entered Tico Tico Studios to record their fourth album in March 2004. This would mark Henrik's first album with the band with him donating his skills on the hammond and keyboards. Reckoning Night, as it would be called, was the first time both Tony's and Henrik's keyboard tracks were used, making the sound of the album that much more dense.

"Don't Say A Word" debuted at #1 on the Finnish charts, making it the fastest Sonata Arctica single to accomplish that. The EP with the same name rocketed up to #4 which gave the band two releases in the Top 10 at the same time. Instead of doing a headlining tour to support Reckoning Night, they accepted an invitation to open for Nightwish in Europe. Some of the shows were in excess of 12,000 people per night. This gave Sonata Arctica even more exposure than a simple tour by themselves would have done.

In October 2004 their second album Silence was certified Gold in Finland with 15,000 copies sold. It became the first of many Sonata Arctica albums to reach that mark. The Helsinki club Tavastia got to bear witness to the fateful event with a large audience cheering the band on in celebration. The Reckoning Night album was also nominated for an Emma Award in the "Best Hard Rock/Metal Album" category.

Japan would be the stage for Sonata Arctica's first DVD. Recorded at the Shibuya-AX in Tokyo, the band played two shows back to back with the same setlists for the event.

Sonata Arctica was next slated, yet again to open for Nightwish during their tour of the US. However, this tour was canceled. The band then decided to do a short tour of the USA & Canada, focusing on the east coast. At the completion of the tour the band promised to return again for a longer tour.

A Finnish tour started in October at the Hartwall Arena in Helsinki. They opened for Nightwish, who recorded their "End of An Era" DVD that night. This was followed by more shows in Finland, and Sonata Arctica's second Finnish gold disc for Winterheart's Guild in late December 2005.

Finally, Sonata Arctica fulfilled their promise of returning to North America with an extensive tour in early 2006. The tour covered 29 shows in 28 different venues, winning over new fans at each show. Reckoning Night was certified Gold in Finland while the band was still touring in North America in February 2006. This album went on to sell 100,000 copies worldwide, and became the most successful Sonata Arctica album ever.

After returning from North America, they went on to play additional shows in Europe to promote the newly released DVD For the Sake of Revenge. The tour ended in August 2006 with the first ever Sonata Arctica Open Air festival in their hometown of Kemi.

Reckoning Night World Tour
tour started: July 16, 2004
tour ended: August 26, 2006
shows: 167
countries: 17
other: The band went to the USA & Canada for the first time, and released their first live DVD. They supported Iron Maiden in Japan before the tour and ended the world tour with their own Sonata Arctica Open Air festival in their hometown Kemi.

Unia (2007):

The band retreated into the studio to start working on their fifth album. Along the way the process was filmed for a Finnish documentary about the band called "Songs From The North Or Something". This documentary would end up only being shown at the annual music video festival in Oulu and Helsinki in September 2007. At this time the band was asked to participate in a PC role playing game 'Winterheart's Guild' based on their album. However, this never proceeded further than the concept stage.

Their fifth album Unia, Finnish for 'dreams', was released in May 2007 and a Finnish tour was started. Unfortunately, due to other responsibilities guitarist Jani Liimatainen was unable to accompany the band for this tour. Consequently, solo artist Elias Viljanen was hired to fill in for those gigs and the Japan tour. Elias filled that role so seamlessly that he was asked to join permanently in July 2007 after Jani left the band.

After performing a few summer festivals, the band took off for Mexico to play their first shows there. A twenty day US tour followed it, including a debut performance at the Atlanta based ProgPower Festival in September.

No rest for the wicked as a European tour with opening acts Epica and Ride the Sky commenced, taking them all over Europe and eventually ending up back home again. They made an appearance at Rock Radio Finland and finished off the year with a small tour of Finland.

2008 would turn out to be the busiest touring year for Sonata Arctica, filled to the brim with concerts all over the world. It started out with another tour of the US, from where they jetted off to their first full tour of South America, and later to the United Kingdom.

After a successful festival season, appearing at Wacken Open Air to play for over 80,000 people, they went on another US tour with Nightwish. This tour was fraught with problems as several shows were canceled by Nightwish due to illness, leaving Sonata Arctica to do free shows for those who showed up. The frantic year ended with yet another European tour taking openers Pagan's Mind and Vanishing Point. Sonta Arctica also had their first appearance in Russia.

Unia World Tour
tour started: April 27, 2007
tour ended: November 29, 2008
shows: 157
countries: 26
other: This was the first tour with guitarist Elias Viljanen. The band also went to Russia, Mexico, Argentina & Peru for the first time.

The Days of Grays (2009) & Live in Finland (2011):

In early 2009 the band went into the studio and started working on their sixth album, which would be their first with Elias on guitar. A small festival tour during that summer let fans hear some of the songs that would end up on The Days of Grays. The somber tone of the album reflected getting old and dying - different from the progressive leanings of Unia. The Days of Grays was certified Gold on the day of release, making it the first Sonata Arctica album to manage this feat.

Before going to Europe, Sonata Arctica hitched a ride with Dragonforce, who opened for the second leg of their US/Canada tour. It is one of the few times the band toured North America before Europe in order to promote a new album. Delain and Winterborn opened for them in Europe. Unfortunately, a few shows of this tour had to be canceled due to illness.

The New Year began with the band playing their first ever gigs in Australia. They continued onto Asia, playing their first gigs in China and Taiwan before hitting Japan again. A few makeup gigs from the previous European tour were played along with a tour of Russia and Finland. Eventually in April, they did a full tour of the USA with openers Powerglove and Mutiny Within before the festival season started.

A DVD show in Milan, Italy was planned for September 30th, but was postponed when Elias broke his hand working out in early September. It would be pushed foward to 2011 and eventually changed to Oulu, Finland. The year ended on happier note with a full South American tour, complete with a tour documentary filmed and edited by Tony.

January 2011 had the band setting sail with the inaugural 70,000 Tons of Metal cruise which traveled from Miami to Mexico with three straight days of shows running around the clock. Sonata Arctica would end up playing two shows with alternating setlists.

Another European tour commenced, highlighted with a special two hour show in Milan that debuted the setlist for the upcoming DVD show in Oulu. It was their gift to the Milan fans who bought tickets to the DVD show the year before. The Oulu DVD show, titled Live in Finland, would be released on November 11th, thus making the release date 11/11/2011.

The Days of Grays World Tour
tour started: July 9, 2009
tour ended: August 15, 2011
shows: 182
countries: 38
other: The band released their 2nd live DVD from this tour as well as paid first visits to a number of countries like Australia, China, Taiwan, Guatemala, Ecuador, Venezuela, El Salvador and Uruguay.

Stones Grow Her Name (2012):

In September 2011 Sonata Arctica locked themselves in the studio once again to make their seventh album. This time the focus was on making their songs easier to translate on stage and the end result was Stones Grow Her Name. Released in May 2012, it became the first Sonata Arctica album to be certified Gold with pre-sales alone and managed to crack the US charts for the first time on Billboard's Heatseeker's Chart at #9.

Other than random summer festival shows, Finland became the first country to hear many of the new songs live with an extensive tour in September. After taking few weeks off, they were back on the road for a European tour in November, with Battle Beast opening and a small North American headlining tour in December. Both tours were filmed by Tony and videos posted along the way on the band's YouTube channel, giving the fans a change to see life on the road. 2013 was spent on the road with the band doing tours in Scandinavia, UK, Russia, Japan and Latin America before finishing the tour with the summer festivals in Europe. At the end of the tour Marko Paasikoski left the band, citing lack of motivation as his principle reason.

Stones Grow Her Name World Tour
tour started: April 7, 2012
tour ended: August 15, 2013
shows: 95
countries: 31
other: Some first time countries on this tour were: Costa Rica, Columbia, Paraguay and Turkey.
No audio samples have been linked to this profile.
Current Lineup
| Name | Role | Dates |
| --- | --- | --- |
| Tony Kakko | | |
| Tommy Portimo | | |
| Henrik Klingenberg | | |
| Elias Viljanen | | 200-present |
| Pasi Kauppinen | | 200-present |
Past Members
| Name | Role | Dates |
| --- | --- | --- |
| Jani Liimatainen | | ?-200 |
| Marko Paasikoski | | ?-200 |
Videos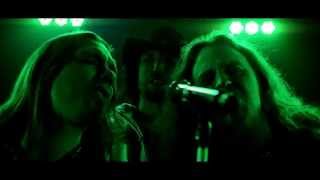 Status:
Unknown
- Last confirmed Jan. 14, 2014