no upcoming shows listed (solo, or for current projects)
Thu. September 29th 2011
Early show: PuddleCity Arts presents! Featuring
Nathan Blackburn
,
NATHAN & MARC
,
The Reckoners
,
Chi Sun A.K.A. Mista Ho
,
Robert Burton Hubele
Robert Burton Hubele
Age: 71 (estimated)
Label:
Hubele Arts Music
jazzy blues with great songwriting from Calgary Alberta
Instruments: Guitar, Vocals, Composition/Songwriting, Bass, slide guitar
details
In entertainment Robert Hubele has had many lives. From acting to story-telling, radio work, writing to children's books to music, he's had many years of pleasure in the arts. He's been able to be versatile because Robert loves procreation, as he calls it, or, leaving a mark on the world, which he willingly does in any way he can. But it is music that has been the instigator of it all.
Robert Hubele's greatest height in music to date has been during the late 1980's to mid 1990's when he was touring the country with a band called 'Robert Hubele and the Strange'. The band played a lot of big shows and even had a Much Music video running his song, 'In Through the Wild Country'. Now, many years later, and with eight albums to his name, Hubele will be on the road with his new ninth album Highway of Dreams.
From rural Alberta, Robert Hubele has a definate prairie air about him with folksy ways of speech and a great variety of stories. As a songwriter Hubele recognizes the social impact of being in the public eye and likes to write about important things with a rural persons point of view, because little things that make a difference. How something ordinary can become extraordinary with just a little care.
In his craft Robert Hubele is entirely self-taught. During his first job working for Canadian Pacific Railroad, His friend Butch offered to loan him his electric guitar and amplifier and taught him the basics, then when he first heard Bonnie Raitt in the early 70s, he took up slide dobro as he just had to learn how to make that ʻslidey' sound, Robert 'I made a lot of racket for a couple of years until eventually I got the hang of it.' He then wrote his first song at age 21 and was struck by an avalanche of writing as produced 5 or 6 songs a week for a significant period. In retrospect, Robert says they 'all were pretty bad', but he was 'learning to understand the mechanics of music'. Over time quality has come to replace quantity and now a days he usually takes two or three weeks to fully develop each new song.
For influences Hubele has many, first he became fascinated with the earthy beat and emotional impact of the blues and began listening to, and playing along with, B.B. King, Howlin' Wolf, Willie Dixon, Muddy Waters, and Freddie and Albert King. Hubele's introduction to jazz then was through Chuck Tracy, who was a hard-core lounge musician who was Hubele's roomate for a while. In listening to him rehearse Hubele got turned onto the music of Tom Waits, Mose Allison and Fats Waller, Bing Crosby, Dean Martin, Benny Goodman, Cab Calloway and Louis Jordan.
And there is also a country influence, which was more picked up by osmosis as is inevitable in the prairies where music by Hank Williams, Hank Snow, and Marty Robbins are a background to life.
Nowadays Robert makes his home in Vancouver's West End with his long-time wife Susan and prepares to launch Highway of Dreams which is a thematic collection of songs of romance and travel that are both tightly assembled and variously arranged. All of his musical influence comes clear in the album along with great songwriting technique. In the album the road of influence in his storied career comes to a beautiful intersection where he reaches his best work to date.
Audio Samples
| Track | Play | Save |
| --- | --- | --- |
| He Thought She Looked Pretty | | |
| Highway of Dreams | | |
View all tracks for this artist (2)
Available for paid gigs
Available for serious projects

Videos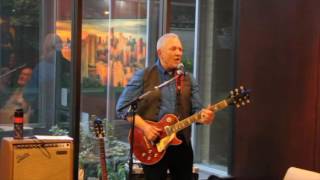 Posted: Aug. 18, 2016
Filmed: May. 19, 2016
Listing last updated/confirmed Jul. 18, 2017