Caracas
Available for Shows/Gigs
- Confirmed:
Feb. 24, 2020
Label:
Independent
Latin Punk from Vancouver BC
Tracks (12)
"Wow. Fun, quirky. I really like it. So unusual from what we've been reviewing and critiquing (...) They're probably amazing to see live." - Mark Zubek, Angelo Dodaro, The Hit Song Hotline Podcast, Toronto (Feb 02, 2015)

"Caracas has the ability to combine the energy of good ol' punk music with Latin-infused guitar riffs, while maintaining the spunk needed to stand out in the business." Natalie Hoy - The Permanent Rain Press

"Oozes East Van multiculturalism(...) [Tambores y Tanques] is definitely worth a listen." Charlotte - Vancouver Music Review

"Victor and Javier's back and forth vocals is the stuff of instant-replays. [...] Five eardrums out of Five." Alexander Carrigan - White Rock Sounds Blog

"I can honestly say i've never heard ANYTHING like you guys. And I love christian metal. #originalFTW" - Vancity Rocks Twitter

"Caracas is a hidden gem in the Vancouver scene. (...)Can't wait for you guys to get huge." Brady Adkins (Radio DJ) - CJSF 90.1FM "Coffee an' a Smoke" - Live interview

BIO

Formed in 2011 by Venezuelan-Canadian brothers Javier and Victor Badillo, CARACAS forges an unforgettable mix of Latin grooves, fiercely original rock and a high-energy live show, reminiscent of bands like Pixies, Gogol Bordello, Manu Chao, and Santana..with a Venezuelan twist.

Caracas has completed a tour of the Mexican Mayan Riviera (2014) a tour of the Okanagan (2015), recorded 2 EPs and a demo, and has songs featured in Ska compilations, TV shows, web series and independent movies. The band has also shared the stage with Latin Grammy nominated stars Jarabe de Palo (Spain), Gondwana (Chile) and La Gusana Ciega (Mexico).

Releases and Appearances

Caracas's EP "Bring on the Playtime" (Spring 2016) was produced by South African-Canadian producer Dylan Ellis (Hokum, Rami Lakkis), and was recorded in Vancouver's iconic The Farm studios, and at DeVille Studios, tucked in a small East Vancouver neighborhood.

A music video for their new single "Bring on the Playtime" (2016) was filmed by director Shaun Walford. You can watch the award winning music video on Youtube.

The single "Bring on the Playtime" was also selected as the theme song for the microbrewery doc web series "Vancouver On Tap" (2016), also on Youtube.

A number of the band's songs are featured in the independent movies "The Cover-Up" (2013) and "Naked Night Bike" (2014).

Caracas was featured on "Canadian Sound Arts Therapy Show / Sailing the Salish Seas" on Shaw TV (Channel 4). The episode originally aired in the spring of 2015.

The band was invited to perform at the 27th Vancouver Dragon Boat Festival in 2015 and again in 2017. The event is the largest of its kind in North America attracting tens of thousands of people from the US and Canada.
Audio Samples
| Track | Play | Save |
| --- | --- | --- |
| Fairy Dust Mofo (EP 2016) | | |
| Running (EP 2016) | | |
| Bring on the Playtime (EP 2016) | | |
| Pond of Dreams (EP 2016) | | |
| Pond of Dreams (EP 2013) | | |
| Bring on the Playtime (EP 2013) | | |
| Dale a tu Bongo (EP 2013) | | |
| Fairy Dust Mofo (demo 2011) | | |
| Running (demo 2011) | | |
| Get To The Room (demo 2011) | | |
| Diez Años (demo 2011) | | |
| Wings Made of Wax (demo 2011) | | |
View all tracks for this artist (12)
Videos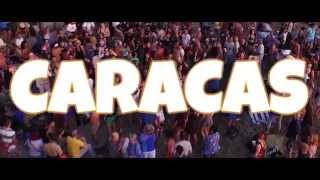 In this Video
Artist(s)
Caracas
Resource(s):
Laughing Bean Coffee Co.
,

Goodyear Ultimate Source Automotive Inc.
,

Johnstone Boilers Ltd
,

Brahm Tahmm's drum circle on third beach
Posted: Apr. 25, 2016
Filmed: Aug. 31, 2015
Current Lineup
| Name | Role | Dates |
| --- | --- | --- |
| Javier Badillo | Vocals, Percussion, Cuatro, Samples | 2011-present |
| Victor Badillo | Vocals, Guitar | 2011-present |
| Andrew Godwin | Drums | 2017-present |
| Ashish Joseph | Bass | 2018-present |
Past Members
| Name | Role | Dates |
| --- | --- | --- |
| Arlan Wiesenthal | Bass | 2013-2014 |
| Aidan Rantoul | Engineer / Bass "tambores-y-tanques" | 2013 |
| Jorge Pedret | Vocals, Cuatro, Spanish Guitar, Percussion | 2014-2015 |
| Luis Garzon | Bass, Vocals | 2014-2017 |
| Heather Anderson | Trumpet, Vocals, Percussion | 2014-2016 |
| Enmanuel Moreno | Drums, Percussion | 2014-2015 |
| Greg Samek | Drums, Percussion | 2015-2016 |
| Kenan Sangur | Drums, Vocals | 2016 |
| Dave Taylor | Bass | 2016 |
| Shawn Martin | Drums, Percussion | 2016-2017 |
| Isaac Godwin | Bass | 2017-2018 |
Status:
Available for Shows/Gigs
Bookings at:
[email protected]
Publishing (SOCAN/ASCAP/BMI) Dead Straight / Vancouver Records
- Last confirmed Feb. 24, 2020