no upcoming shows listed (solo, or for current projects)
Big John Bates
"Noirchestra"
Label:
Frontman Records
Americana Noir from Vancouver BC
Instruments: Guitar, Vocals, Violin, Bass (Acoustic), mandolin, cello, timpani
details
Age: 30
From the Bestiary to the Leathering Room, the newest LP from Big John Bates is the heart of the band's dramatic post-punk performances and the thick white vinyl is covered with the intoxicating art of Santiago Caruso.

Their "rustic tapestry of bowed bass, guitars and thumping percussion" now embraces the addition of Requiemily's post-rock violin and lyrics embroidering a midnight path with themes of hope, belief and despair.

The Noirchestra is fronted by guitarist Big John's gruff leathered growl and upright bassist Brandy Bones' "wonderful Montanan drawl" an "infernal fusion of Patti Smith & Siouxsie Sioux". Their "unorthadox" and "intriguing style" had one reviewer wondering if it might "summon a demon from under the coffee table." With Ty-Ty the Saviour on percussion maybe it would …
No audio samples have been linked to this profile.
Available for paid gigs

Videos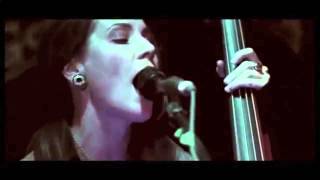 Listing last updated/confirmed Aug. 18, 2016